W456: The True Implications of AI for the Association Industry: Part 4 – Responsible AI And Associations' Role In Defining The Ethics Of AI
October 26 @ 11:00 am
-
12:00 pm
EDT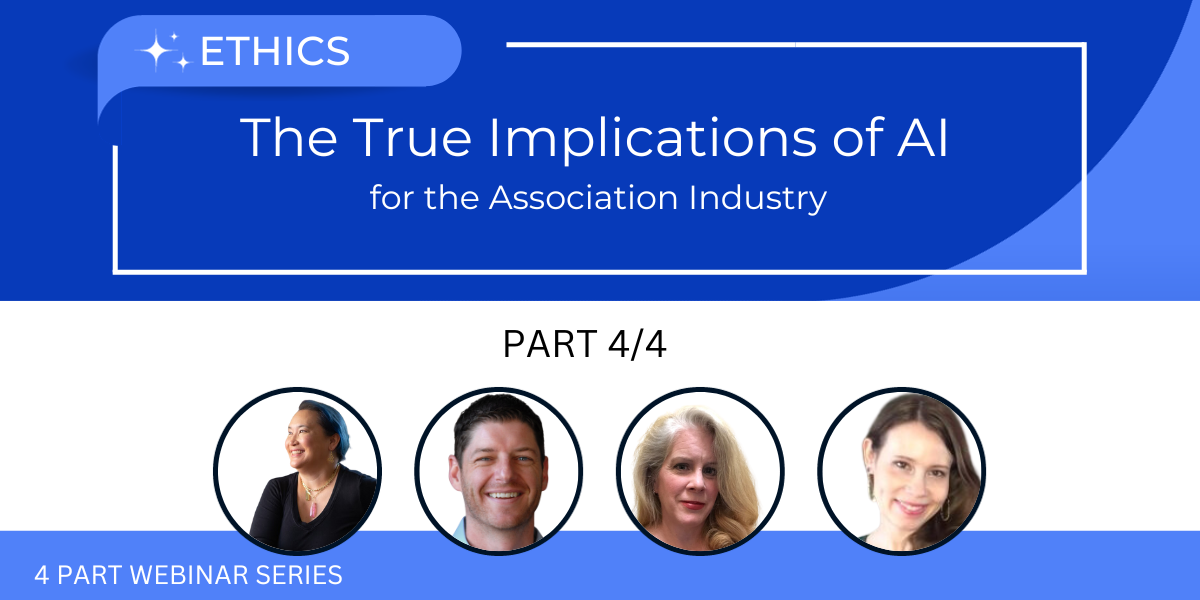 COURSE DESCRIPTION:
The True Implications of AI for the Association Industry
A four-part strategic conversation between forward thinking industry leaders and YOU, about how association leaders should be thinking about the impact of generative AI on the association industry as a whole, as well as on your own association and its members.  This series will provide food for thought and some questions for consideration, through a full group discussion hosted by a small group of panelists who have already put a lot of thought into these topics and have some insight to share. The bulk of the time will be for general discussion and Q&A – you will be sure to leave with your mind buzzing as well as some practical ideas and next steps to bring back to your organization.
We will cover the following topics:
Part 4 – Responsible AI And Associations' Role In Defining The Ethics Of AI
The Responsible AI Manifesto states, "We have to be willing to have the hard conversations now so that we do not ruin what can be one of the most transformative technological shifts in human history. As AI capabilities race forward, leaders must clearly define their principles, policies and procedures."  How can associations – standards-bearers by design—lead the charge?  How should we start thinking about the ethics of AI, starting at home in our own organizations? 
Bring your questions, ideas, and resources/links if you have some!  All sessions in this series will provide actionable resources from panelists and participants for all to take away.
LEARNING OBJECTIVES:
– Explore ethical considerations for leveraging AI technology in organizations
– Learn about the trends in and key considerations for constructing a framework for responsible use of AI
– Understand the questions they need to ask in order to develop ethical AI solutions
– Develop strategies for staying informed of new and evolving regulations and standards associated with responsible AI usage
To Watch this Webinar on the Media Library CLICK HERE!
NASBA (Field of Study)
Behavioral Ethics
CAE (Subject Domain)
Member and Stakeholder Engagement and Management
Prerequisites and advance preparation needed
1 years operations experience. No advance preparation required
Reviewer
Wade Tetsuka, CPA
Delivery
Group Internet Based
Related Events