S403: Spring Symposium: CFO Panel Discussion — Future Proofing the Office of the Association/Non-profit CFO
March 23 @ 1:00 pm
-
2:00 pm
EDT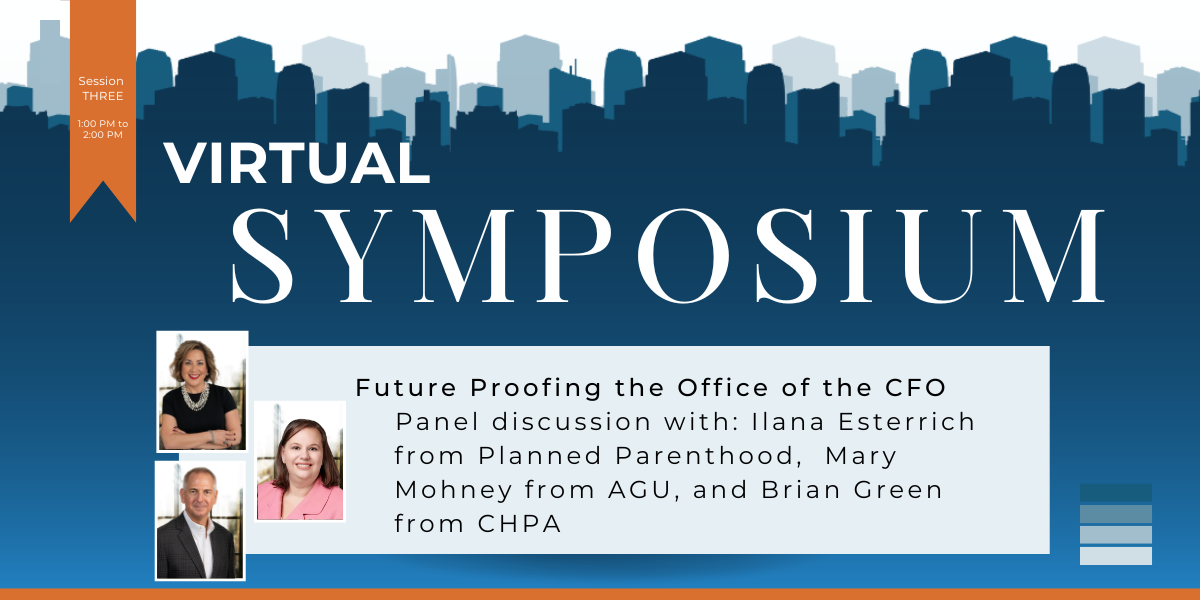 COURSE DESCRIPTION:
According to the 2020 Global CEO Survey conducted by PwC, a shocking 40 percent of respondent CEOs believe their companies will no longer be economically viable after ten years if they continue with their current strategies. A stark reminder that in this rapidly advancing digital age, organizations must strive for change and transformation if they wish to survive the coming decade. The survey suggests that a multi-dimensional approach is required; one that focuses on automation and innovation while rethinking and refining business models, operations, and customer experiences. Clearly, only those who recognize their need to evolve and adapt to external factors will be able to maintain their vitality in the long run.
"Future proofing the office of the CFO" recognizes the reality that the role of the CFO has drastically evolved over the years, and will continue to do so in the future. CFOs are now seen as the CEO's strategic business partner, equipped with an understanding not only of the company's budget but also the economics of trends occurring in their field, giving them unique insight and enabling them to create business value and fuel transformation.
Today's CFO is just as much the organization's Chief Transformation and Risk Officer, as it is evident that their abilities go far beyond merely crunching numbers. With this newfound responsibility bestowed upon them, CFOs have become increasingly important figures in leading their organization towards successful transformations.
In this panel discussion, you will learn how 3 CFOs of leading Associations/Nonprofits are working towards future-proofing their role and their organization.
LEARNING OBJECTIVES:
Learn about the evolving role of the CFO in transforming the organizations that they help to lead.
Gain insight into how CFO's are focusing on automation and innovation
Learn how CFOs are functioning as the Chief Transformation and Chief Risk Officer of the organization.
You can also join us IN-PERSON in Washington, D.C! (for Associations & Nonprofit Professionals)
NASBA (Field of Study)
Management Services
CAE (Subject Domain)
Organizational Strategy
Prerequisites and advance preparation needed
1 years operations experience. No advance preparation required
Reviewer
Wade Tetsuka, CPA
Delivery
Group Internet Based
Related Events