S401: Spring Symposium: Economic Outlook: Recession 2023? Two (2) Perspectives to Help You With Budget and Scenario Planning for Your Association/Nonprofit
March 23 @ 10:00 am
-
11:00 am
EDT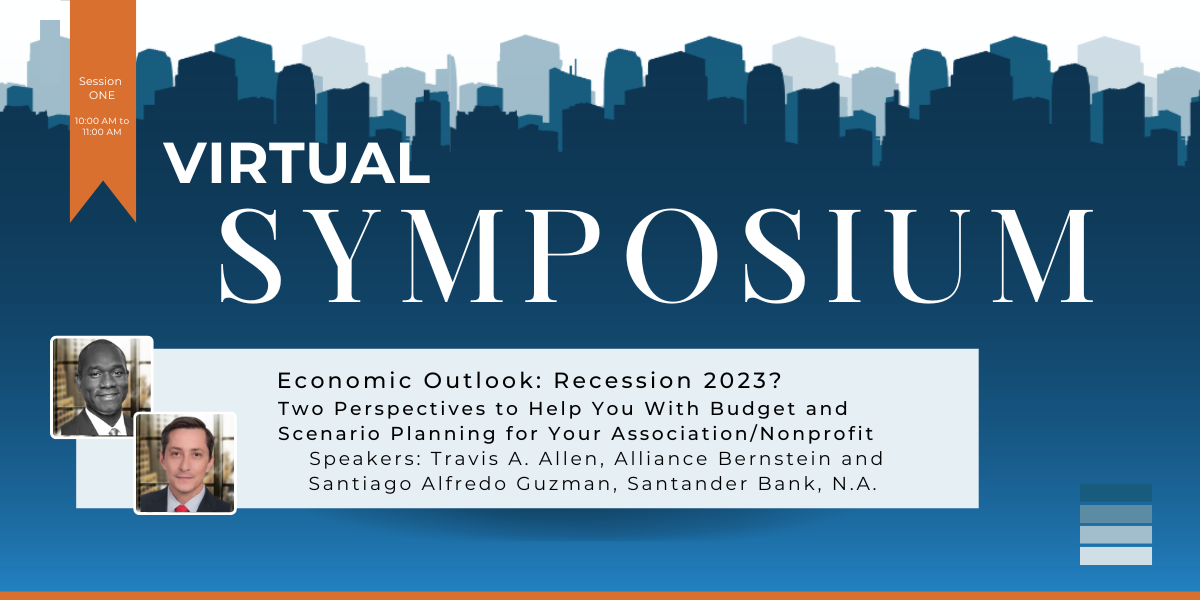 COURSE DESCRIPTION:
With the world emerging from pandemic-inflicted economic shock and continuing geopolitical turmoil, the future economic outlook of business and industry in 2023 has yet to be determined. Though economists remain divided on whether a recession will occur in the year 2023, most expect that 2023 will not be a strong year for growth. Companies may experience short-term setbacks but long-term strategies should focus on smart investments, adaptive strategies, agile operations and increased labor productivity.
In this session, the participant will gain insights from two (2) different perspectives on the Economic Outlook. 
Consider these different perspectives that you hear today, and use those insights to help you in your budget and financial scenario planning for your Association/Nonprofit organization.
Two perspectives from:
Alliance Bernstein:  After a year [2022] full of surprises, we look ahead to 2023 prepared for even more. The two "shuns"—inflation and, increasingly, recession—form the heart of our questions for the global economy and markets next year. What path will they take? And, if they do take the world by surprise, which direction seems likeliest?
Santander Bank:  Growth and inflation will still be causes for concern next year; but markets are already showing signs of a comeback. We expect that confirmation of peak inflation in Q1 2023 may lead to a pause in interest rate hikes by central banks, which would set in motion the recovery process in fixed-income markets. The recovery of more cyclical assets, like equities, should get underway in H2 2023 if central banks announce lower interest rates. More than ever, it is paramount to balance a short and long-term vision when managing investments as investors should not ignore the need to be invested in real assets and in thematics related to innovation and sustainability.
LEARNING OBJECTIVES:
Learn about what key factors will impact the economic outlook for 2023
Gain insight into two (2) perspectives on the economy and how that might impact your organization and the industry you serve.
Takeaway some factors to consider as you develop your next budget and financial scenario plans.
You can also join us IN-PERSON in Washington, D.C! (for Associations & Nonprofit Professionals)
NASBA (Field of Study)
Economics
CAE (Subject Domain)
Organizational Strategy
Prerequisites and advance preparation needed
1 years operations experience. No advance preparation required
Reviewer
Wade Tetsuka, CPA
Delivery
Group Internet Based
Related Events